You have probably heard about the four ancient Chinese great inventions which are Gunpowder, Papermaking, Compass, and Printing. But have you heard about the four ancient Chinese charts? They are the Acupoint Chart, the Bazi Chart, the Chinese Zodiac Chart, and the Gender Chart. Following are the brief introduction of these magnificent inventions.
Acupoint Chart
The ancient Chinese medicine acupuncture involves inserting needles into the skin for a therapeutic effect. It doesn't involve drugs, though, and the needles are inserted at specific points, called acupoints, on the skin. Acupoints are areas of the skin where resistance to the flow of electricity is lower than in surrounding areas, mapped out by acupuncture practitioners thousands of years ago. Most are situated on the meridians or channels of energy which form a network in the human body through which Qi, or energy, is believed to flow in Chinese medicine.
Acupuncture, and it's a less invasive modern counterpart, acupressure, which involves applying pressure to acupoints rather than inserting needles into them, is still used today to relieve pain, encourage healing and to improve general wellbeing including mood and energy. It remains popular because it offers a safe alternative which is often successful where modern medicine fails to provide pain relief.
BaZi Chart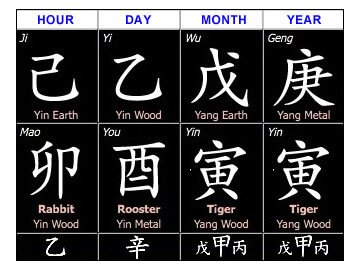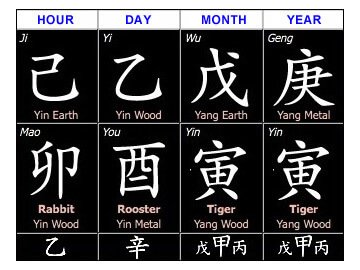 Chinese fortune-telling, or BaZi, is often known as Four Pillars in the West. It is an intricate art in which the potential for an individual's life is charted using the birth year, month, day and hour. BaZi uses complicated calculations to track the cycles of influence or destiny in all aspects of our lives, from relationships with family, friends and loved ones, to career, money and business relationships, and even fame and recognition. Using two people's birth data, Ba Zi practitioners can predict the outcome of a relationship and the life path of the individuals in it.
BaZi can teach us about our inner natures and about how we relate to those around us. Much as with Western astrology, many people use Ba Zi readings to advise in matters of the heart and career, and use forecasts based on cycles of luck to improve job prospects, strengthen relationships and inform decisions in every area of their lives.
Chinese Zodiac Chart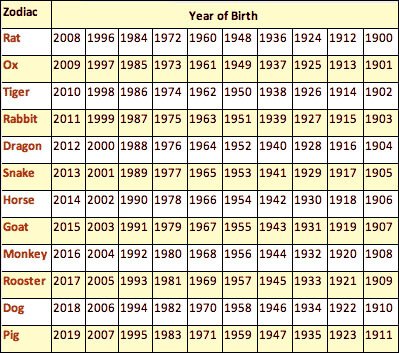 The Chinese Zodiac with its twelve animals representing the twelve years of the cycle has been around for over five thousand years. The Zodiac chart shows you which animal you are belonging to. Again, much like Western Astrology, astronomers originally created the Chinese Zodiac. It was considered part of astronomy before the two disciplines separated, with astronomy being more science-oriented and astrology being more of a fine art.
The core concept of Astrology is that the universe is a macrocosm of the Earth, and that movements in the heavens are reflected by events on Earth. Thus, by predicting the movements of planets and stars, we can predict events that will influence our lives.
If you want to learn more about the Chinese Zodiac, and the Zodiac Compatibility chart, see it here.
---
---